Need help Finding the Tableau Logo? Want to learn about the data that helped us build Dev3lop? We explain everything below.
Hello, I worked at Tableau Software in 2014+ and I built this little website called Dev3lop.com in 2016. The data related to Tableau Logo as a keyword helped me build Dev3lop!
Below, you can quickly grab the Tableau logo, and many other logos related to the same Tableau Software, developed by Tableau partners.
While learning about Tableau Consulting organic traffic data, we noticed there are thousands of people who google for the Tableau logo each month, and there are hundreds of companies fighting for a place to rank. The reason people rank for images is because it helps their domain rank higher. Companies automate building "logo" pages on their website to drive more traffic to their website.
Learn about Tableau Logo and logo usage online. To learn about Tableau – read our Tableau Definition blog.
We built this blog to help others understand the impacts of grabbing logos willy-nilly online.

How to grab the Tableau Logo from Tableau website
How to avoid spam websites
And an explanation of of what's happening on google
Go to the Headquarters Tableau Website to Download the Tableau Logo!
Googling is not the best bet because most companies manipulate the google ranking to benefit their website.
We recommend going to the source. As Salesforce has recently purchases Tableau, we may see a subtle change to their logo, if not a mixture of both salesforce and Tableau.
Right click and open the logo in a new window!
A new tab opens showing Tableau's company logo. No questions asked – this is the right logo – and will always be the right logo for every business in the world.
If you're looking to make your Tableau Desktop workbook faster, be sure to check out our blog – optimize image tableau.
Our Founder was on the home page of Tableau!
That other blue box is a picture of my smiling face. Alongside my mates from Tableau Software!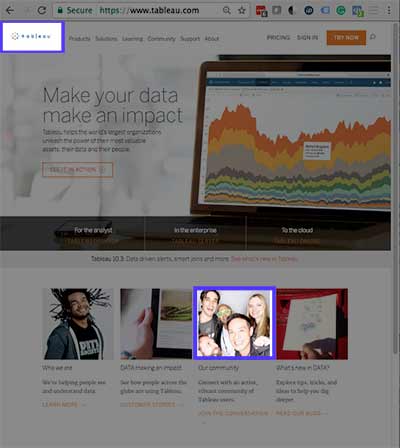 Did you know we were on the home page?
Thanks web dev team.
Tableau logo and tips on grabbing images online.
Finding a Tableau Logo is starting to look harder with the increase in popularity of the company Tableau Software.
Pro tip: When you start googling for the correct content, it's always best to look to see what the company is using because anyone can rank a logo image.
Not all tableau logos are created the same.
This logo may be safe to use, but just be sure before using other people's logos if it's okay.
Tableau Logo Helpful Tips
Before diving into finding logos. It's important to understand a few optimization pieces that seem to have eluded every dashboard we have seen!
4 Easy Steps to use when Optimized Images is important
don't let pictures resize, bring them in true values.
JPEG for pictures
PNG simple and tight lines
SVG if you want to optimize your PNG into code – this opens the door for animation with CSS.
The Tableau Logo Ranking
We noticed a lot of companies rank for "tableau logo" because the company itself did not name their logo "tableau-logo."
If you can automate searching or web scraping, you can quickly automate checking to see if a company is ranking for their logo or not.
This is why companies develop "logo" websites. Logo websites are developed as a means to generate traffic and send more clicks to their click ads.