The Digital
Marketing Agency
Optimizing Conversion to Maximize ROI
Growing brands by accelerating website traffic with captivating content to optimize lead conversion.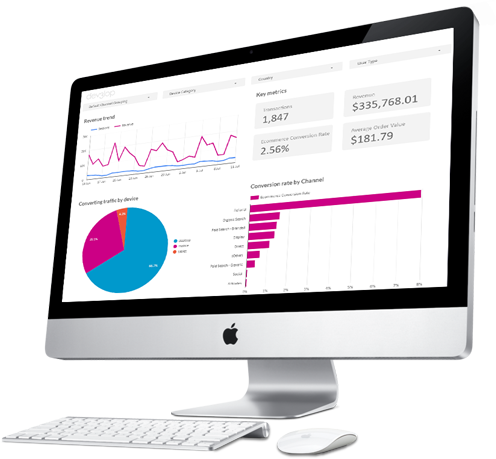 An Influential Digital Marketing Agency
Understanding Your Market and Competition
Digital marketing success does not happen by accident. It is the direct result of strategic efforts by talented, business-minded marketers proud to be part of your success story. It is not enough to hire a marketing agency. You need an agency that will run your business online presence based on meticulous analysis and an intricate, yet straight-forward execution plan.
With so many marketing channels and advertising mediums to consider in the digital age, an end to end marketing strategy has never been more complicated, yet necessary. Dev3lop's straightforward, systematic approach to SEO, web development and design provides clients a clear path to Internet success in all available opportunities backed by specific and timely KPIs.
Digital Marketing Services
Intelligent Creativity
Our SEO services provide tailored, powerful and multi-layered solutions to generate organic Internet leads and ultimately increase revenue.
Does your website have a high bounce rate? A carefully planned user-journey can nurture more visitors from leads into customers.
We provide an extensive suite of engaging digital and print brand experiences that attract audiences, build brand awareness and maximize conversion at every touch point.
Discover
DEFINE
DEsign
Develop
debug
deploy

Our 6D ProcessTM
Systematic Improvement Methodology
Oftentimes agencies skip a crucial stage when building a brand or devising an online strategy. Regardless of the type of project we are working on, our process remains consistent. We believe repetition improves efficiency while reducing costly mistakes. Press play and we will introduce you to our proven process to success.
Next  »
Discover
Observe
>

Question

>

Collect

We begin every engagement with an assessment of the client's current standing. Where you are, what resources you have, and the present performance gaps. Using competitive analysis, web marketing tools as well as our extensive knowledge and expertise, we conduct a thorough situational assessment to identify what you are doing well, what needs to be improved, changed or introduced.

Next  »
Define
Predict
>

Analyze

>

Establish

From the information and insights acquired from the discovery phase, we identify the specific marketing programs that guarantee alignment of your marketing and organizational goals. We closely work with you to predict what your business needs, analyze the best strategies and approaches available, and then come up with a custom approach that meets your unique needs and circumstances.

Next  »
Design
Brainstorm
>

Outline

>

Position

We kick start the design phase by first brainstorming to come up with innovative ideas that fit your approach and which amplify result achievement. We then draw from your needs and strategy, as well as your expectations to outline specific program requirements and objectives. We end this phase by positioning the carefully selected ideas with the laid out requirements to guarantee sustainable achievement of your objectives.

Next  »
Develop
Build
>

Refine

>

Communicate

All the planning and preparation in the preceding phases leads up to this step where everything comes together like a jigsaw puzzle. This is where we build the actual marketing programs; SEO, websites and design services. We continually refine the programs to ensure that we optimize their efficiency and effectiveness to meet overall and specific objectives. Although this step is more about our skill and brilliance, we constantly keep you informed on the progress.

Next  »
Debug
Test
>

Edit

>

Validate

After development, we then embark on testing the performance of the programs on a trial basis. The trials are based on a variety of criterions that cover corresponding requirements of the individual programs. In case of any misgivings, we edit the programs to make sure that you are fully satisfied with their performance before validation.

Next  »
Deploy
Introduce
>

Monitor

>

Optimize

With all the backend preparation completed, this is where we do the actual marketing. This involves deploying the programs into the market in order to achieve your envisioned objectives. We do not just fold up and leave, we also employ an array of KPIs to provide up to the minute performance tracking on the programs. These reports help us continually optimize the programs so that they continue to meet your objectives and remain future proof.

Next  »
Why Every Business Needs an SEO Strategy
of marketers say improving SEO is their top inbound marketing priority
– HubSpot, 2017
of searchers do not go past page 1 of the search results
– Infront Webworks, 2015
of the links clicked on by search users are actually organic
– searchenginejournal, 2012